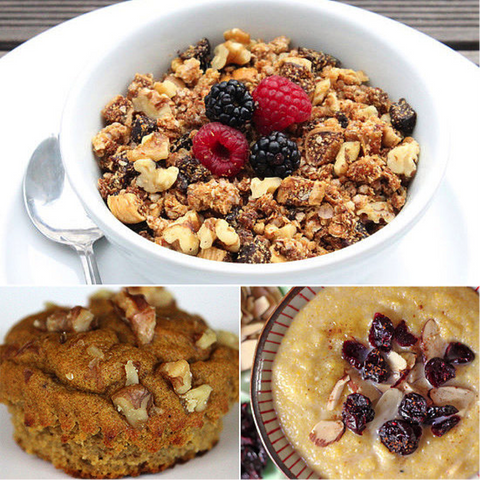 Breakfast
Since breakfast is still the most important meal you can eat health-wise, adding new foods to your repertoire not only varies the nutrition; it keeps you from getting bored. Plus, eating a heartier "dinner" meal helps fill you up so you eat less throughout the day.
But since the same bowl of oatmeal every day can get boring, you might need a few new ideas for what to eat in the morning.
Whether you are headed to the gym or on your way out the door to work, make sure your breakfast is going to keep you going for the next few hours.
Your breakfast is the beginning of your day, so make it count. A smoothie packed with protein will do the trick and keep you full until lunchtime but you might need a few fresh ideas for your run-of-the-mill morning meal and boost your energy on your way to work.
We asked our nutritionists to snap a photo of their breakfast and give us the lowdown on their wholesome choices.
Gluten-Free Breakfast! 
All our breakfast are gluten free. These delicious breakfast options that won't leave you feeling deprived. When you first eliminate gluten, the whole process can feel a little overwhelming. Luckily, there are a ton of healthy and hearty breakfast options for a gluten-free diet. 
Check out their delicious dishes!
Protein Pancake
A large protein pancake topped with mango and blueberry
As a healthy, energizing alternative to starchy white pancakes, you will love to start your day with what we call a protein pancake.
It's made with egg whites, which deliver 20 grams of high-quality protein to keep hunger at bay and help you stay alert and focused throughout the morning. The other key ingredient is whole-grain oats, which are rich in fiber to up the fill factor even more.
What you will love most is that you get a giant, dinner plate-sized pancake for only 265 calories. We top it with fiber-rich fruit for another shot of nutrition.
Veggie Omelet
Our nutritionist prepares an egg white omelet stuffed with onions, spinach, broccoli, and feta for a low-calorie breakfast of champions.
Combined with a handful of berries, water, and a smoothie, the meal is designed to keep you feeling full until lunchtime.
This delicious dish is great to keep you full for hours. The omelet is packed with protein, which will keep your blood sugar stabilized. Breakfast cereals and bagels are high in carbohydrates that leave you hungry and crashing shortly after you eat. This is also a perfect meal for anyone following a gluten-free diet.
Healthy Apple Crisp
This breakfast will leave you feeling energized and nourished.
We slice an organic red apple into small chunks and pop it with slow heating. While it's heating up, we toss together a quarter cup of dry rolled whole grains, 2 tablespoons of sliced almonds, and a generous dose of organic apple pie spice. After the apple is warmed, we cover the slices with the grain mixture and voila!
It's like eating warm apple crisp for breakfast.
Crave combines this meal with a homemade Healthy vanilla latte, consisting of one cup of brewed organic coffee, one cup of organic soy milk, and a pinch of organic pure vanilla powder.
Nutritionally speaking, our nutritionist think it's the perfect combination of whole foods—fresh, in-season organic fruit; a serving of 100% whole grains for nutrient-rich, slow-burning carbs that fuel me all morning; high-quality metabolism- and brain-boosting lean protein from the full serving of organic soy milk; heart-healthy, satisfying plant-based fat from the almonds to help you stay fuller longer; natural spices for aroma and flavor; and each ingredient is chock-full of antioxidants, including the coffee.
Apple-Cinnamon Quinoa
Whip up a gluten-free quinoa featuring soft, cinnamon-spiced apples; plump raisins; and crunchy almonds. Bake a batch ahead of time, so you can enjoy this healthy breakfast all week long.
Pumpkin Pie Muffins
These light and fluffy pumpkin pie muffins can serve as a tasty breakfast to fuel your day, but they're sweet enough to feel like a treat. One of these muffins is less than 140 calories, so grab two in the morning for a quick breakfast that will keep you satisfied throughout the morning.
Gluten-Free Granola
High in iron and completely free of cholesterol, this gluten-free granola is sweet and nutty with the perfect crunch, everything you're craving in a bowl of traditional granola. It's made with quinoa flakes and just the right touch of dried fruits.
Breakfast Polenta
A fast bowl of breakfast polenta is easy to make and provides you with the protein, carbs, and comfort you need after a dark morning workout. It's a great gluten-free and vegetarian option for runners who need a quick recovery meal.
Homemade Wheat-Free Cereal
Certain mornings call for a healthy breakfast that's quick and satisfying. If a good old bowl of cereal is what you're craving, reach for one of these gluten-free approved options. We keep things fresh with our favorite berries.
Raw Banana Breakfast Sushi
They're surprisingly quick and easy to prepare, and in fact we think they'd make an excellent portable breakfast option for any busy working person. Creativity abounds when one has a little time in the kitchen! We will definitely be making these a staple, and wrapping them up to take to classes when they start.
Note that we use chard leaves for the sushi wrapper in this recipe. Collards, dino kale, and romaine leaves would all work just as well, though if you're a little sensitive to the taste of greens we will definitely be using chard, rather than collards.
It's fast, tasty, all raw, and all vegan, and it's a fun recipe!
Baked Egg in Avocado
For a one-two punch of omega-3s in your breakfast, try baked eggs in avocado. The low-sugar, high-protein, and fiber-filled breakfast will kick off your day on a healthy high note. Total Calories: 449
Fruit-Filled Muffins
You can leave out the refined sugars and still enjoy a naturally sweet muffin. These fruit-filled muffins bring bananas, apples, strawberries, and grapes to the batter for an antioxidant-rich breakfast. Total Calories (per muffin): 100
Oatmeal Bites
Baked goods like scones and quick breads tend to be high in sugar and fat, so if you're craving a homemade treat from the oven, these lower-calorie oatmeal breakfast bites instead are amazing.
Quinoa Pancakes
If you're not sure what to do with leftover quinoa, then whip up a batch of fluffy quinoa pancakes for breakfast. This creative twist on the classic offers more folate, protein, and fiber than traditional recipes. Total Calories (for two pancakes): 208
Turkey Sausage Egg Muffins
With 12 grams of protein a piece, these gluten-free turkey sausage muffins are smarter than any fast-food egg option you'll find before work. This is another recipe that's easy to bake ahead of time and grab when you head out the door. Total Calories (per muffin): 150
Greek Yogurt in a Melon Bowl
Greek yogurt is one of the best ways to enjoy plenty of protein without any eggs or meat. Instead of topping off your morning bowl of yogurt with sugary granola, serve it up in a fresh cantaloupe bowl that kicks out carbs. We make sure to add your favorite fresh berries to the mix for extra color and flavour. Total Calories: 146
Quinoa Egg Bake
This quinoa egg casserole is a perfect gluten-free breakfast. In addition to plenty of protein and fiber, you'll up your iron and calcium intake while enjoying this recipe.
Oatmeal Pancake
This is the easiest single-serve pancake of all time. Total Calories: 169
Apple Chunk Banana Bread
Made with less sugar than a traditional loaf, this low-fat vegan apple chunk bread is so naturally sweet from the bananas, apples, and applesauce that it's perfect for a healthy breakfast (toasted and smothered with crunchy nut butter!). Total Calories (per slice): 147
Low-Carb Pancakes
Even if you're conscious of calories, you can still enjoy a stack of hotcakes! These wheat-free pancakes use almond meal and flaxseed to increase their protein and fiber content. Total Calories (per serving): 162
Apple Cinnamon Quinoa Bake
Whip up this gluten-free quinoa bake featuring soft, cinnamon-spiced apples; plump raisins; and crunchy almonds. Bake a batch ahead of time, so you can enjoy this healthy breakfast all week long. Total Calories: 269
Banana Smoothie Muffins
Made with pureed banana, spinach, and strawberries, these smoothie-inspired muffins came out even more deliciously sweet and moist than anticipated. Total Calories (per muffin): 155
Asparagus-Potato Frittata
Frittatas are a delicious meal for anytime of day, but they're especially satisfying at breakfast or for brunch. Serve up this Spring veggie and potato frittata if you're looking for a standing ovation the next time you entertain health-conscious guests. Total Calories (per serving): 144
Banana Oatmeal Pancakes
Bring extra nutrition to your standard stack of flapjacks with these satisfying banana almond oatmeal pancakes.
Total Calories (per three pancakes): 337
Coconut Banana Bread
A loaf of coconut banana bread brings a number of unexpected ingredients to the pan, including fresh OJ and Greek yogurt. Total Calories (per slice): 115
Cinnamon Quinoa Bake
This sweet treat is a no-stress meal to start off your day. Total Calories: 173
Contact us, we will make them for you !
As Usual, we will deliver them free to your Home or Office for an order of 2 or more!