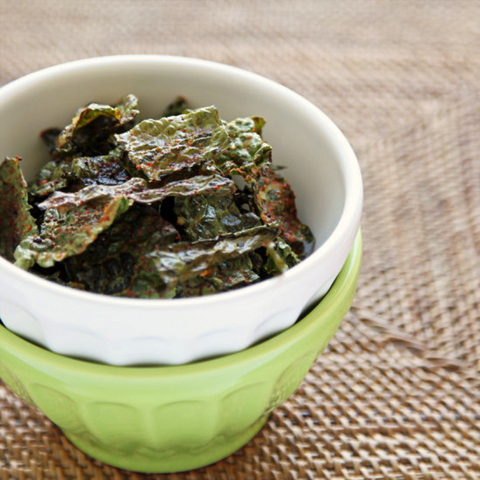 Chips
Hand made with a sophisticated Dehydrator, they contain no fat and they are packed with Vitamins, protein and fibres with no fat or added sugar.
Perfect as a morning or afternoon snack, they will boost your Energy and Focus.
Spicy Kale Chips
Experiment with flavor and make a batch of spicy miso kale chips. These crisps take a little more effort than the former, but they're well worth the effort. After whisking the pretty leaves with miso and rice wine vinegar, they practically cook themselves. In 10 minutes, you have your next munch-worthy table snack.
Brussel Sprouts Chips
These chips are a great way to make use of leftover sprouts in your crisper, and since they're Paleo-friendly, gluten-free, and vegan, they can easily serve as a quick, clean appetizer when you have impromptu guests with dietary restrictions. Keep reading to learn how to make this easy 50-calorie snack.
Parsnip Chips
Parsnips are a good source of folate, which may reduce the risk of cancer in addition to birth defects.
Zucchini Chips
Lighter than traditional potato chips, these guys offer a crispy coating and a melt-in-your-mouth center—you won't believe you are eating an immune-boosting, vitamin C-rich vegetable.
Apple Chips
As if being naturally fat-free and filled with fiber weren't enough, this sweet, crunchy fruit snack contains ursolic acid, a compound that research shows may help you boost your calorie burn, in the skin of the apple.
Coconut Chips
Although they're paper thin, these crispy-crunchy chips are chock-full of heart-healthy, hunger-satisfying fat. Try them as a standalone snack or sprinkled on salads, soups, and chicken and fish dishes or in homemade trail mix.
And a lot more made for you ! Our Secret ? spices and herbs for the taste
We deliver them to your Home or Office !
Contact us and we will make some special ones for you !