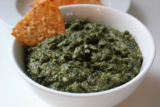 Creamy, Low-Calorie Kale Dip
Home-made and 100% Organic!
Please taste buds and diet plans alike by swapping the calorie-busting spinach dip with this kale ricotta dip. It tastes almost as creamy and just as delicious — seriously, you'll be surprised. And at only 24 calories per 1/4-cup serving (not to mention a good dose of vitamin A), it's practically guilt-free.