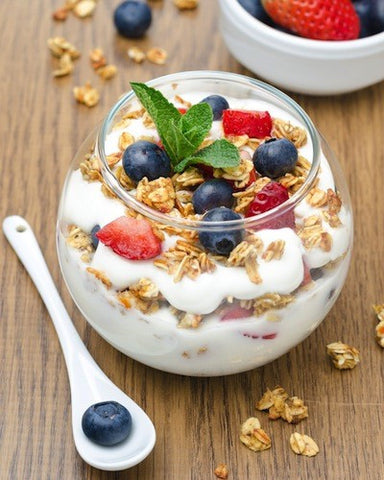 Desserts
Our Homemade desserts are rich in taste and low in sugar. Our secret? spices to enhance the flavours.
Juicy Oranges with Pistachios, Granola, and Yogurt
Nutrition score per serving: 378 calories, 16g fat (2g saturated), 57g carbs, 15g protein, 7g fiber
Rhubarb Strawberry Ripple Fro-Yo
Nutrition score per serving (1 cup): 333 calories, 12g fat, 51g carbs, 9g protein, 4g fiber
Spooky Green Chia Pudding (with a Wheatgrass boost!)
Spooky, maybe, but also rich in phytonutrients, protein, and calcium. That's a spooky and a healthy treat!
Strawberry Ginger Chia Pudding
This pudding uses just enough ginger to add unexpected flavor to the chia pudding, but certainly not enough to overpower or add heat
Coconut Macaroons
Macaroons are traditionally made solely with shredded coconut, but these also contain chopped almonds for an interesting and addictive crunchy texture. The only problem is these almond-coconut macaroons are so hard to resist, you'll have trouble stopping at just one.
Vegan Ice Cream
All you green smoothie-lovers out there will appreciate this vegan ice cream made with frozen banana, mango, pineapple, and an iron- and fiber-rich green ingredient — spinach. The fruit completely overpowers this mild-tasting veggie, so you're left with a creamy, oh-so-sweet ice cream that's low in calories — just 160 — and completely dairy-free.
Friendly Cookie
Unlike many gluten-free treats, coconut macaroons won't leave you wanting. Airy meringue coats chewy coconut flakes, and the mixture bakes into fluffy, cloud-like cookies.
The Essence of Rhubarb in a Simple Galette
Rhubarb is a pink-hued vegetable that looks similar to celery stalks. This incredibly gluten free tart is toned down with sweet fruits like strawberries.
Low-Calorie Chia Pudding
Chia seeds and coconut milk marry for a Paleo-friendly pudding that works great for breakfast. High in anti-inflammatory omega-3s, this sweet chia pudding is a make-ahead recipe that will save you time, fill you up on fiber, and help you debloat. 
Dairy- and Gluten-Free Bread Pudding
Gooey bread pudding is a decadent treat, but it can be tough to re-create if you're on a gluten- or dairy-free diet. This gluten free dessert recipe is full of fresh fruit and tastes just like the original. Crisp on top and soft in the center, this recipe nails all the classic textures of bread pudding with extra iron and calcium.
100-Calorie Chocolate Almond Fruit Dip (and It's Vegan!)
While slices of crunchy apple and fresh strawberries are sweet enough on their own, isn't everything better with chocolate? You can spruce up your basic snack by pairing it with this smooth and mousse-like chocolate dip. Made with almonds, chickpeas, and dates, it offers fiber and protein, but is much lower in sugar than if you noshed on a couple squares of dark chocolate.
Contact us, we will make special ones for you !
As Usual, we will deliver them free to your Home or Office