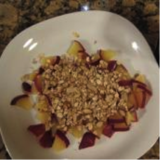 Healthy Apple Crisp
This breakfast will leave you feeling energized and nourished.
We slice an organic red apple into small chunks and pop it with slow heating. While it's heating up, we toss together a quarter cup of dry rolled whole grains, 2 tablespoons of sliced almonds, and a generous dose of organic apple pie spice. After the apple is warmed, we cover the slices with the grain mixture and voila!
It's like eating warm apple crisp for breakfast.
Crave combines this meal with a homemade Healthy vanilla latte, consisting of one cup of brewed organic coffee, one cup of organic soy milk, and a pinch of organic pure vanilla powder.
Nutritionally speaking, our nutritionist think it's the perfect combination of whole foods—fresh, in-season organic fruit; a serving of 100% whole grains for nutrient-rich, slow-burning carbs that fuel me all morning; high-quality metabolism- and brain-boosting lean protein from the full serving of organic soy milk; heart-healthy, satisfying plant-based fat from the almonds to help you stay fuller longer; natural spices for aroma and flavor; and each ingredient is chock-full of antioxidants, including the coffee.