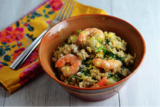 Slow Cooker Shrimp and Artichoke Barley Risotto
Barley and risotto are normally words associated with fancy, fussy food. Not so with a slow cooker! This recipe takes about ten minutes to prep, so there's no excuse not to whip up some risotto.
We will replace the shrimps by healthy fish if you suffer from High Cholesterol!