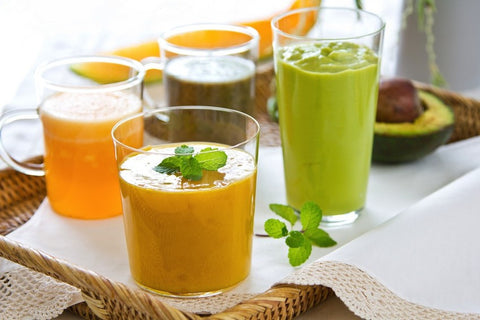 Spring Detox
Hot weather is back !
3 days of freshly squeeze fruits and vegetables with a touch of spice and herbs !
This is a good base to prepare yourself for the Summer.
Since 2010, CRAVE founder Eric Chan has offered the ultimate juicing experience in Hong Kong. In 2012, he received a similar challenge from friend and fellow juicing devotee. She asked him to custom-blend the perfect detoxifying drinks: raw, nutrition-packed juices that would improve her cleanses to make them as effective-and enjoyable-as possible.

Using his top-of-the-line hydraulic press, Eric created a rich array of nutritious concoctions from organic, sustainably grown produce. Salma taste-tested and reviewed them all. The process took months, and what started as a friendly challenge evolved into a dynamic collaboration to create their dream line-up of detox drinks.
The result of their efforts is a cleansing program that is easy to accomplish, ultra-fresh and absolutely delicious. To complete the cleansing experience, they worked with some of the best nutritionists and vegan chefs in Manhattan to develop additional raw-food menus, always using the premium-grade ingredients on which Eric built the success of his stores.
We will deliver to your home or office a pack of 18 bottles that will keep you hydrated, refreshed and with a clear mind !
Be nice to your body !